Precision-Flo High Performance Manifold
The central point of any OMNIE underfloor heating system. The manifold distributes the primary warm water into each underfloor heating circuit.
Manifold with mixing unit and circulator
The manifold is supplied with a mixing unit and circulator to ensure the water temperature entering the floor does not exceed the design temperature. This manifold configuration is essential if the heat source is able to supply high temperature water.
- Auto air vents
- Drain and filling point
- Flow meters
- Isolating valves
- 6 Bar pressure gauge
Sizes available: 2 to 12 Port
Suitable for: Water, Water/Glycol mixtures
Temperature Range: -10˚C to +95˚C
Max system pressure: 6 bar
Electrical supply: 200-240 Volt, 50/60 Hertz
View Datasheet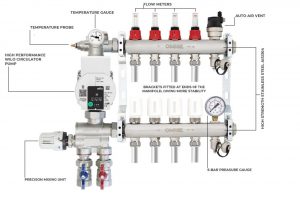 Branch Manifold Only
If the water is supplied at the correct temperature then the mixing valve is unnecessary. Also, if there is a primary circulator installed then this can be removed from the manifold assembly too.