Staple
for screed and concrete floors
Simple and easy-to-lay underfloor heating system for screeded floors
Simple to install
Flexible
Suitable for all screeded floors
The staple system provides a quick, flexible and simple method of installing underfloor heating in a screeded floor. The pipe is easily held using staples. The staples have a barbed end which fixes into the insulation.
To speed up the process further, a pipe stapler is available making installation even easier and faster. In preparation for certain screeds & polythene sheet/membrane may be required over the insulation prior to stapling the pipe. Please seek advice from insulation and screeding manufacturer's/suppliers.
40mm staples are also available for thin insulation applications.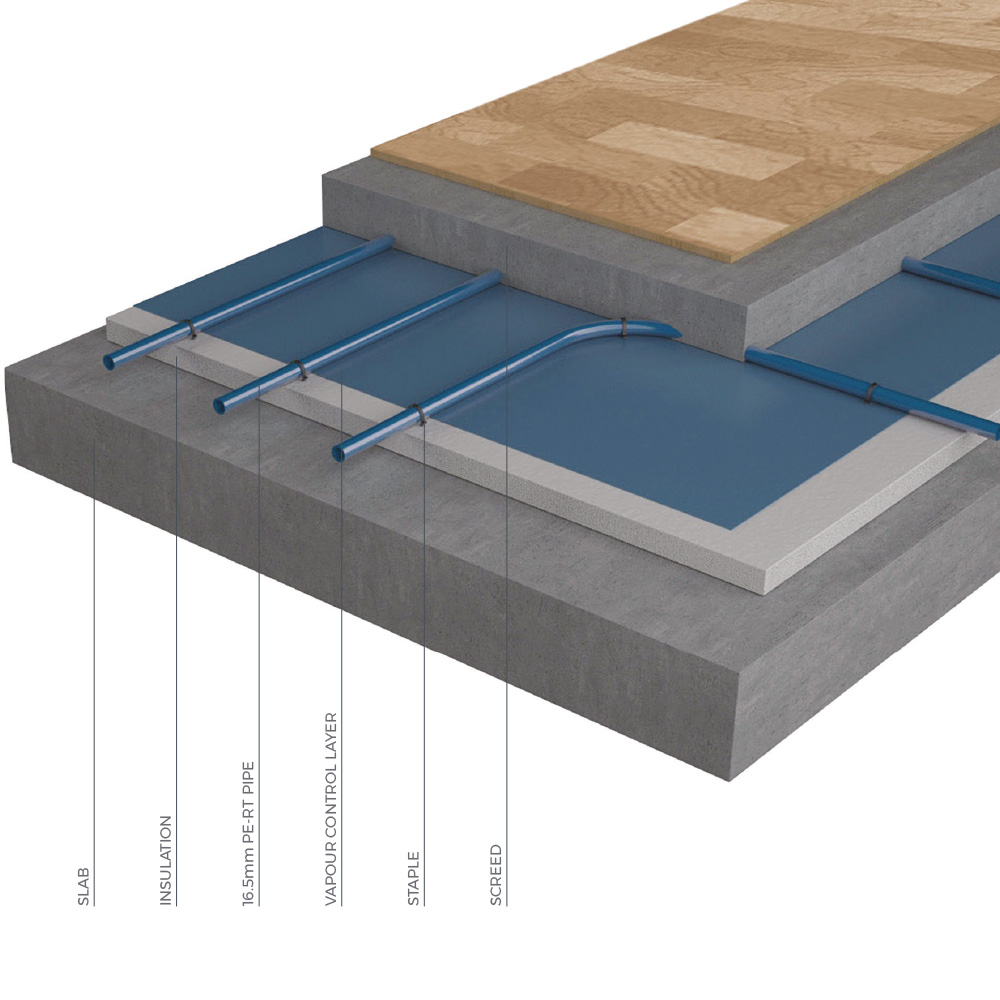 Specifications
Suitable For
Screeded floors
Pipe Centres (mm)
100/ 150/ 200
Acoustic Installations
No
Heat outputs
Based on 16.5mm PE-RT pipe at 150mm centres with 65mm sand/cement screed laid over. Air Temperature = 20°C. 0.15 m²K/W = 1.5 TOG.
Heat outputs are dependent on the water temperature, floor construction, system dimensioning, floor finish & design conditions. Contact us for advice and information.
Floor Finish
Floor and Return Water Temperature (˚C)

55/48

50/43

45/38

40/33

Tile Finish (0.01m²K/W)

150 W/m²

126 W/m²

102 W/m²

78 W/m²

15mm Wood Finish (0.1m²K/W)

105 W/m²

88 W/m²

71 W/m²

54 W/m²

Carpet & Underlay (0.15 m²K/W)

88 W/m²

74 W/m²

60 W/m²

46 W/m²
How to specify
We recommend that you order our products directly through us so that you obtain the most appropriate system and performance specification for the project.
To get a quote please click here or call 01392 36 36 05
Information on product performance and suitability can be supplied by our projects team who are available via our technical support line – 01392 36 36 05. Alternatively please speak to your local business development manager or area sales manager who will happily talk you through our product range and also arrange for samples as you may require.
If you need information on complex constructions such as those with specific acoustic properties, or you have a specialist requirement that is not covered by our standard product range please call 01392 36 36 05.
Detailed installation instructions and a layout plan of the system is included in every system that gets dispatched to site. If you require any additional information at the time of installation we recommend you visit our resources library on our website.
A comprehensive support knowledgebase is also available that contains a wealth of information around installing and commissioning our systems. You can visit the knowledgebase online at support.omnie.co.uk