Staple System
DS UFH 16
---
Introduction
The staple system provides a quick, flexible and simple method of securing the underfloor heating pipework when laying a screed floor. The pipe is easily held using staples. The staples have a barbed end which fixes into the insulation. To speed up the process further a pipe stapler is available, making installation even easier and faster. In preparation for certain screeds, a polythene sheet/membrane may be required over the insulation prior to stapling the pipe. Please seek advice from insulation and screed manufacturer's/suppliers.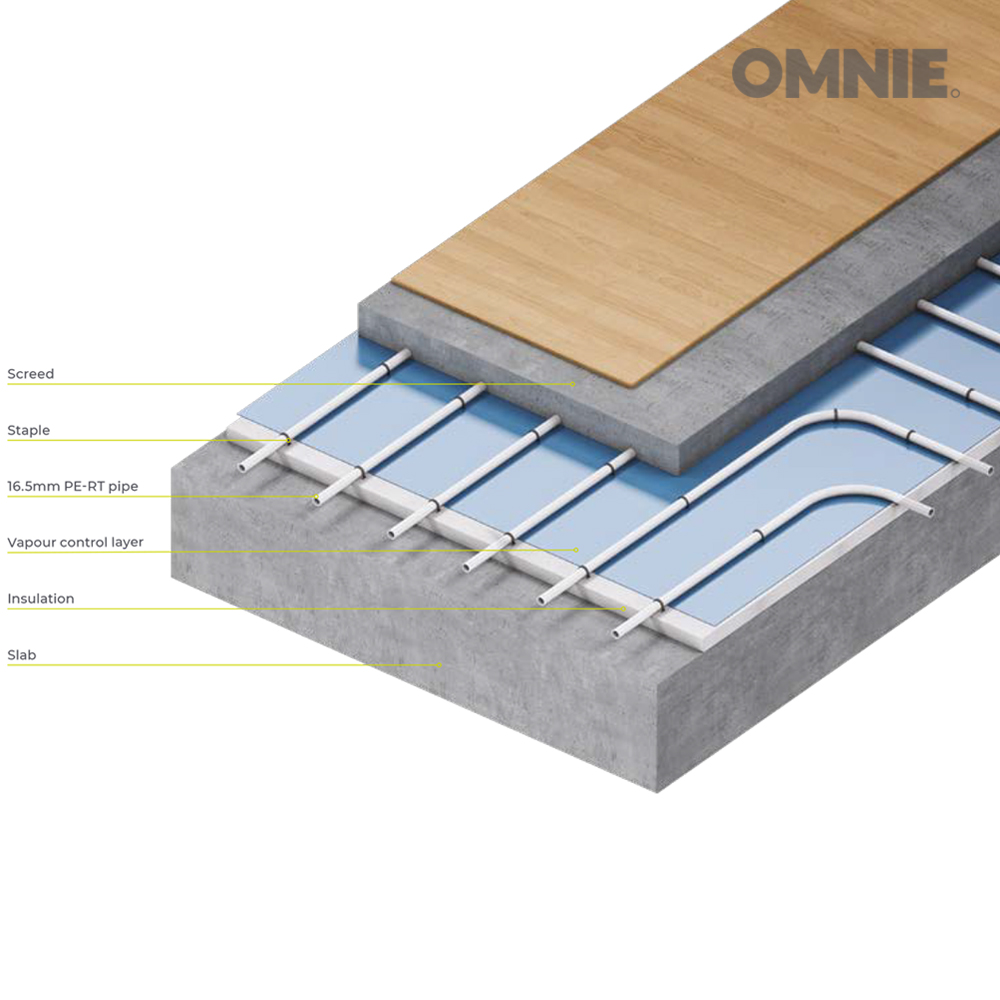 ---
Specification
OMNIE Staple system using 16.5mm PE-RT pipe to DIN 4726 fixed using staples. Expansion foam to be installed around the perimeter of the room. The system to be designed, installed and commissioned to BS1264.
LAYFAST – Speed up installation time. This product uses our multidirectional pipe channel system.
For more information see IG DS 22
---
Technical Details
Pipe
16.5mm PE-RT to DIN 4726
Pipe Centres
150mm and 200mm
Screed
Standard sand/cement screed of 65/75mm or a specialist thinner anhydrite or liquid screed (confirmation of thickness to be sought by screed supplier).
Existing Slab
Existing slab to meet at least SR2 (5mm deviation in 2m) requirements for floor regularity (BS8204) and preferably SR1 (3mm deviation in 2m).
Heat Outputs
Heat outputs are dependent on the water temperature, floor construction, system dimensions, floor finish & design conditions. Please call 01392 36 36 05 to discuss your specific requirements.
As a guide the heat outputs below are based on 16.5mm PE-RT pipe at 150mm centres with 65mm sand/cement screed laid over. Air Temperature = 20°C.
(0.15 m²K/W = 1.5 TOG.)
| Floor Finish | 55/48 (°C) | 50/43 (°C) | 45/38 (°C) | 40/33 (°C) |
| --- | --- | --- | --- | --- |
| Tile Finish (0.01m²K/W) | 150 W/m² | 126 W/m² | 102 W/m² | 78 W/m² |
| 15mm Wood Finish (0.1m²K/W) | 105 W/m² | 88 W/m² | 71 W/m² | 54 W/m² |
| Carpet & Underlay (0.15 m²K/W) | 88 W/m² | 74 W/m² | 60 W/m² | 46 W/m² |