TorFloor
for batten floors
Provides a structural deck and underfloor heating in one
The only independently tested structural underfloor heating system
Multi-directional panels are easy to order and install
Excellent heat output and fast warm up time thanks to pre-bonded diffuser strips
Floor and Heating System in One
TorFloor is the only independently tested structural underfloor heating panel. The multi-directional 22mm panels are laid directly onto the joists, replacing the need for traditional floor decks and making ordering and installation easy. A 6mm ply covering layer is then glued and screwed to the TorFloor panels to complete the floor.
Easy installation
The TorFloor batten underfloor heating system is manufactured from flooring grade chipboard or plywood and replaces the floor deck used in the construction. The TorFloor panels are laid directly on the joists and the pipe is then installed by piercing through the pre-bonded aluminium diffuser strips into the channels with the ends of each circuit dropping into the joist space to be connected to a common 12mm flow and return. Alternatively the system can be installed as a continuous system by feeding the 12mm pipe through the joist space if access permits.
Improved Performance and Heat Output
TorFloor underfloor heating panels are provided with pre-installed aluminium diffusers which improves the heat output and eneregy efficiency compared to other systems. The pipes within the panel are designed to fit as close to the floor finish as possible which further maximises the heat output of the panels whilst minimising the temperature of the water being used. The TorFloor system is optimised to work in conjunction with our heat pumps.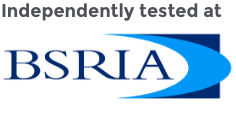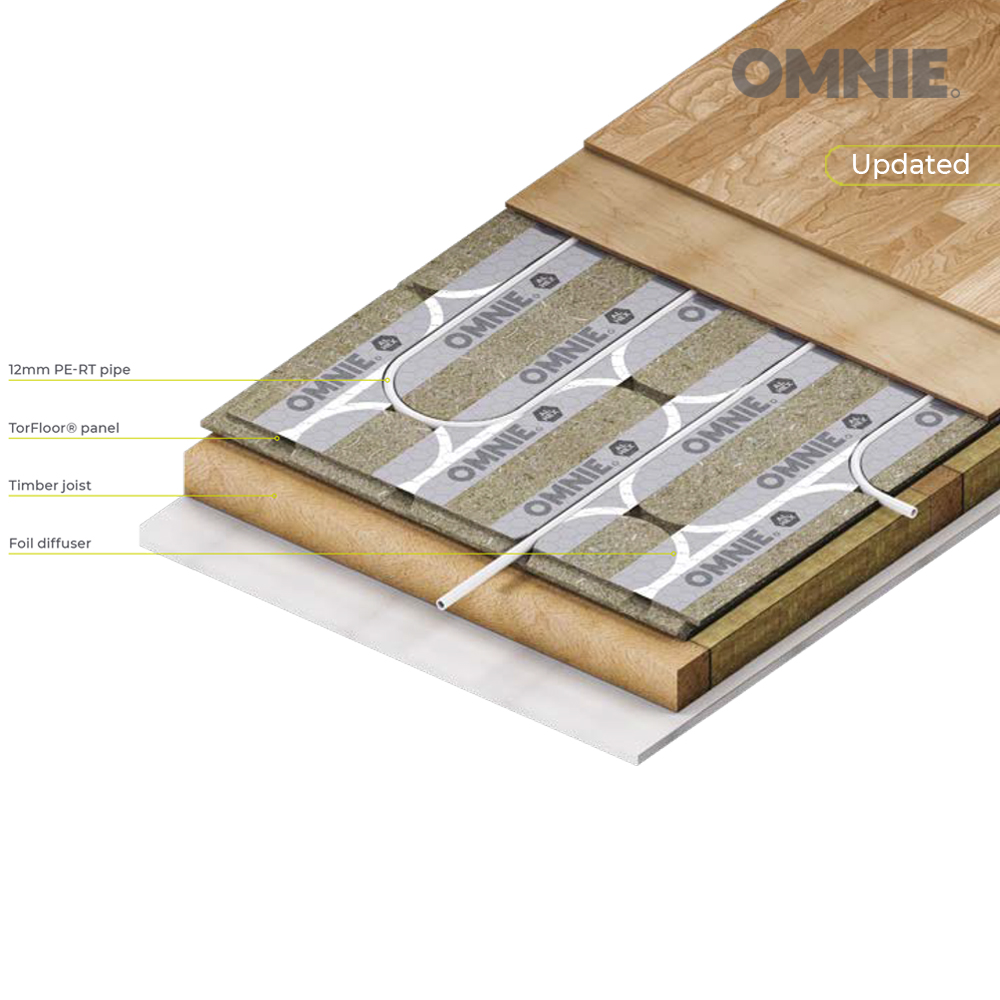 Specifications
Independently Tested
BSRIA
Suitable For
Batten floors
Pipe Centres (mm)
150/ 200
Acoustic Installations
No
Weight With Water (kg/m2)
18.9
Heat outputs
Heat outputs below are based on:
12mm PE-RT pipe at 150mm centres
Air Temperature = 20°C
With required structural layer (by others)
(0.15 m²K/W = 1.5 TOG)
Heat outputs are dependent on the water temperature, floor construction, system dimensioning, floor finish & design conditions. Contact us for advice and information.
Structural Layer – Floor Finish
Floor and Return Water Temperature (˚C)

55/48

50/43

45/38

40/33

6mm floor grade Plywood – Tile Finish (0.01m²K/W)

94 W/m²

79 W/m²

64 W/m²

49 W/m²

6mm floor grade Plywood – 15mm Wood Finish (0.1m²K/W)

74 W/m²

62 W/m²

50 W/m²

38 W/m²

6mm floor grade Plywood – Carpet & Underlay (0.15 m²K/W)

67 W/m²

56 W/m²

45 W/m²

35 W/m²
How to specify
We recommend that you order our products directly through us so that you obtain the most appropriate system and performance specification for the project.
To get a quote please click here or call 01392 36 36 05
Information on product performance and suitability can be supplied by our projects team who are available via our technical support line – 01392 36 36 05. Alternatively please speak to your local business development manager or area sales manager who will happily talk you through our product range and also arrange for samples as you may require.
If you need information on complex constructions such as those with specific acoustic properties, or you have a specialist requirement that is not covered by our standard product range please call 01392 36 36 05.
Detailed installation instructions and a layout plan of the system is included in every system that gets dispatched to site. If you require any additional information at the time of installation we recommend you visit our resources library on our website.
A comprehensive support knowledgebase is also available that contains a wealth of information around installing and commissioning our systems. You can visit the knowledgebase online at support.omnie.co.uk