OMNIE Ultimate2
DS UFH 21
---
Introduction
OMNIE Ultimate2 is a low build up underfloor heating product manufactured from extruded polystyrene insulation (XPS) that enables all finishes including tiles to be laid with confidence on a firm tried and fully tested floor build up, whether the floor make up is a solid slab/screed or a timber (suspended) deck.
The Ultimate2 panels are multi-directional providing ease of installation of pipework and incorporate a 'diffuser channel' to increase the heat output compared to just simple routed channels. This 'diffuser channel' is simply a wide router channel that spans the pipe, dropping 2 or 3mm into the panel increasing the contact with the pipe by about 30%, which in turn increases the heat output and reduces the warm up time.
It is designed in conjunction with our tried and tested leveling compound to overcome the usual issue of low build up floating floors moving as well as not having a surface which allows the tiles to bond properly. We have made the panel 50% faster to install by making it self-adhesive on the underside and pre-primed on the top. Simply peel and stick to the subfloor and pour the levelling screed over.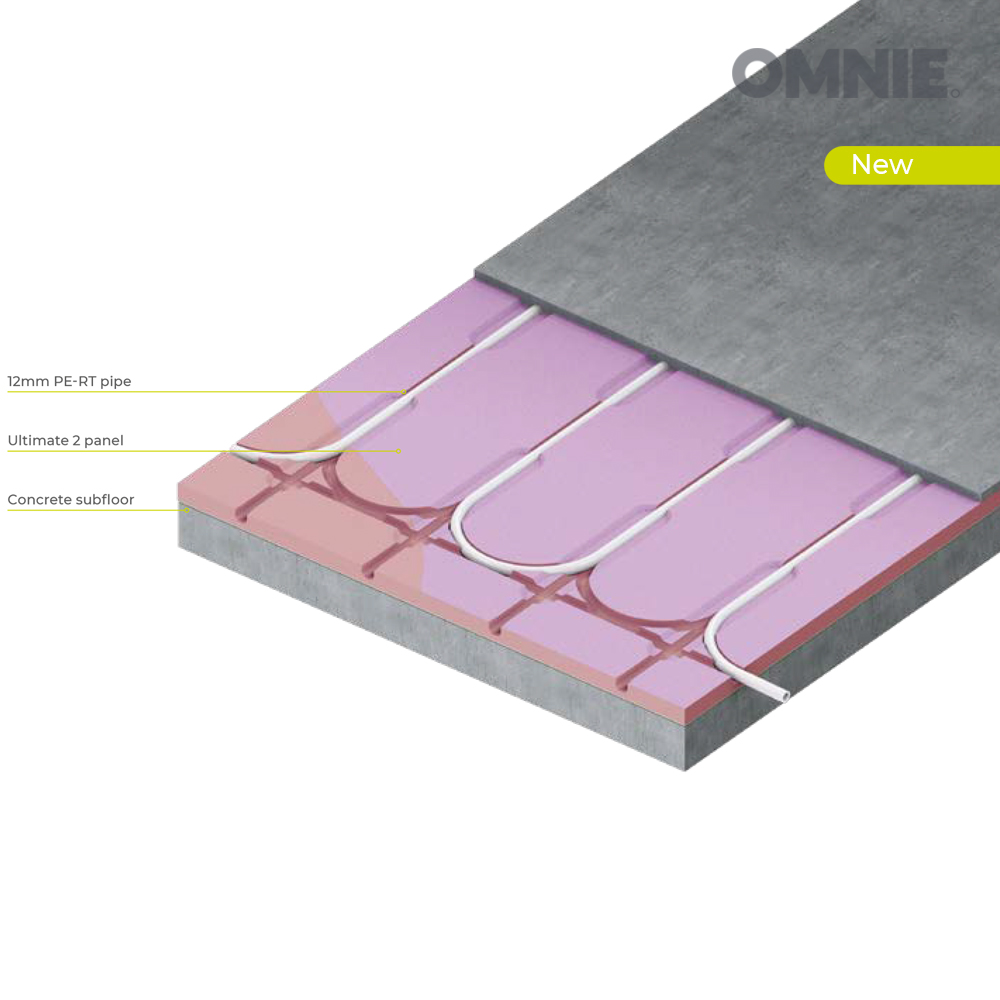 ---
Specification
OMNIE Ultimate2 system comprising of an 18mm thick extruded polystyrene insulation (XPS) with multi-directional routed pipe channels and 'diffuser channel'. The panels adhere to a suitably prepared slab or timber deck. PE-RT 12mm pipe to DIN 4726 to be inserted into the pre-routed grooves at 150mm centres before 9mm of our self levelling compound is applied to receive the final bedding mix and tiles or floor finish. The system to be designed, installed and commissioned to BS1264.
ULTRALOW – This product reduced build up compared to other available systems. For more information on UltraLow Technology see DS UFH 23
LAYFAST – Speed up installation time. This product uses our multidirectional pipe channel system. For more information see DS UFH 22
---
Technical Details
OMNIE Ultimate Panel
XPS extruded polystyrene panel with pre routed diffuser channels (k= 0.034W/mK), pre-primed and adhesive underside for rapid installation
Compressive Strength
280kPa
Panel Thickness
18mm (with a further 10mm of leveling compound poured over)
Panel dimensions
1200 x 600mm
Pipe
12mm PE-RT to DIN 4726
Pipe centres
150mm
Heat outputs
As a guide the heat outputs below are based on 12mm PE-RT pipe at 150mm centres with 9mm screed laid over, followed by a vinyl floor finish. Room Temperature = 20°C.
Heat outputs are dependent on the water temperature, floor construction, system dimensions, floor finish & design conditions.
Contact us for advice and information.
| Floor Finish | 55/48 | 50/43 | 45/38 | 40/33 |
| --- | --- | --- | --- | --- |
| 2.5mm Vinyl (0.038) (10mm screed) | 114.1 W/m² | 95.8 W/m² | 77.5 W/m² | 59.1 W/m² |
---
Preparation
Existing Slab
Existing slab to meet at least SR2 (5mm deviation in 2m) requirements for floor regularity (BS8204) and preferably SR1 (3mm deviation in 2m)
Timber substrate
Timber substrate minimum 22mm tongue and grooved exterior grade plywood or 22mm tongue and grooved green chipboard screwed into the joists at no more than 400mm centres
All floors must be deflection free before laying the Ultimate2 panel.
Advice should always be sought from the flooring supplier/manufacturer as to the best adhesive for use with their product.
How to specify
We recommend that you order our products directly through us so that you obtain the most appropriate system and performance specification for the project.
Note – we provide you with the fundamental build up in order for you to then bed & apply your floor finish. Materials to create fundamental build up include: Ultimate2 panel and levelling compound at 10mm.