OMNIE HOME Thermostat (Wireless)
DS OHC 02
---
SMART Thermostat (Wireless)
The OMNIE HOME Smart thermostat provides full programmable functions, either 7-day Monday to Sunday, 5-2 for weekdays and weekends, day by day or manual control, designed to be multi-functional, simple to install, can operate either directly or via the optional OMNIE App, has a state of the art rechargeable Lithium battery with 2+ years battery life.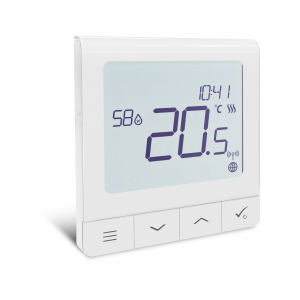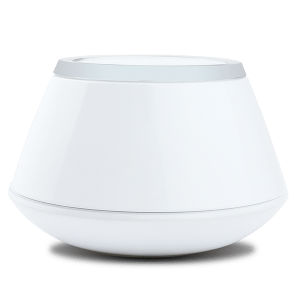 This stylish, discreet thermostat has a simple back-plate that can be screwed to a wall or comes with a self adhesive pad. Once fixed, the thermostat attaches to the back-plate via a magnetic mount, connects wirelessly to the OMNIE Home Wiring Centre via the Universal Gateway.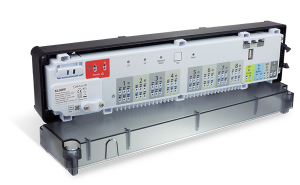 It can also be retro connected to the OMNIE Touch Wiring Centre using a Smart Switch (relay).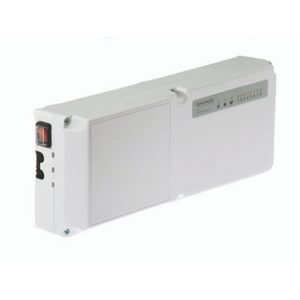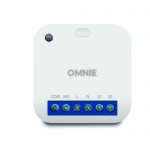 Each thermostat has the facility to add a single remote sensor, floor or air. The floor sensor can be activated to limit the floor temperature where this is required or as an air sensor, allowing the thermostat to be located away from wet areas like bathrooms and en-suites.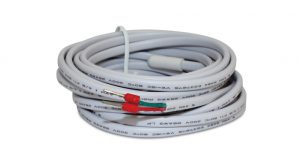 ---
Specifications
| | |
| --- | --- |
| Power Supply | Built in Li-ion 3,7V battery |
| Charging voltage (charger not included) | Micri-USB 5V DC, min 0.5 A |
| Temperature Range | 5-40°C |
| Display Temperature Accuracy | 0.5 or 0.1°C |
| Control Algorithm | ITLC SPAN (±0.25°C/±0.5°C) |
| S1-S2 Input (multifunctional input) | Floor temperature or Air temperature |
| Output Control | COM-NO (volt free) |
| Max current | 3(1) Amp |
| Communication Protocol | Zigbee 2,4GHz |
| Mounting | Surface mounting |
| Working Temperature | 0-45°C |
| IP Protection Class | IP30 |
| Dimensions (Width x Height x Depth) | 86mm x 86mm x 11mm |
| Width after mounting in wall-box | 10mm |
| Works with Alexa | Yes |