UnderPlate
DS UFH 19
---
Introduction
OMNIE UnderPlate system provides underfloor heating in timber suspended floors where the floor deck has already been installed or where the floor deck is to be laid prior to the underfloor heating pipe installation.
With a floor deck already in place the UnderPlate system is installed between the joists from underneath and secured to the underside of the floor deck. Alternatively the UnderPlate can be installed from above and straddle the joists so that a floor deck can be laid to allow trades to continue without damaging the underfloor heating. This is particularly relevant with an exposed deck open to the elements where the progress of construction relies on a working deck to be in place.
In both situations the pipe is then simply pushed into the UnderPlate and once fitted, mineral wool insulation is placed between the system and the proposed ceiling to complete the installation.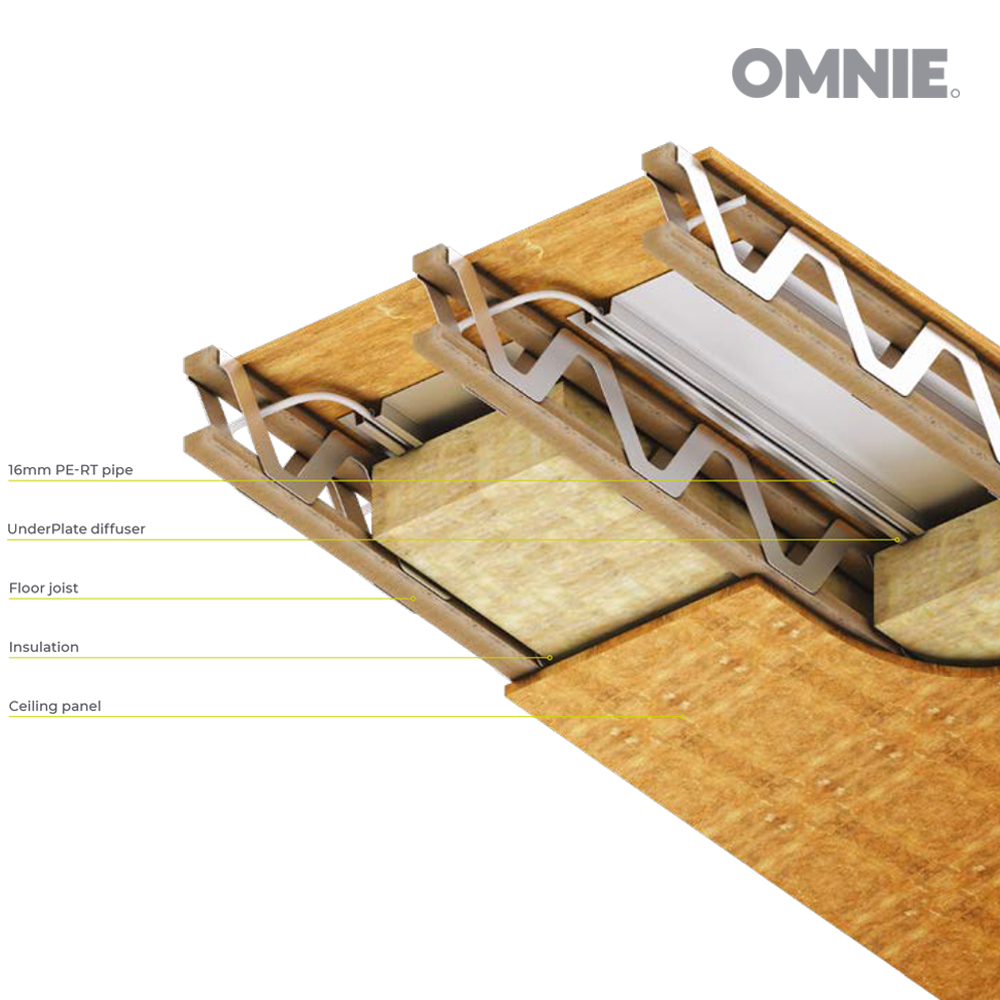 ---
Installation Variant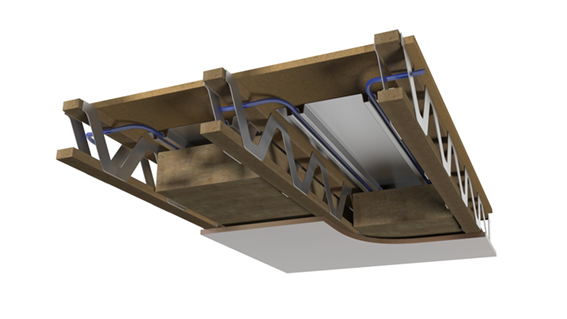 ---
Specification
OMNIE UnderPlate system using 16.5mm PE-RT pipe to DIN 4726 installed into UnderPlate aluminium diffusers fixed to the underside of the existing floor deck or installed prior to an exposed deck installation. Mineral wool insulation to be added below the underside of the plate to provide an air gap prior to the ceiling being installed. The system to be designed, installed and commissioned to BS1264.
---
Technical details
UnderPlate
Aluminium diffuser plate
Panel Dimensions
1000 x 300mm
Pipe
16.5mm PE-RT to DIN 4726
Pipe Centres
200mm 
Heat Output
Heat outputs are dependent on the water temperature, floor construction, system dimensions, floor finish & design conditions.
Heat outputs below are based on 16.5mm PE-RT pipe at 200mm centres with 22mm ply laid under the tiles and 22mm chipboard laid under 15mm wood and carpet & underlay.
(0.15 m²K/W =1.5TOG)
| Floor Finish | 55/48 (°C) | 50/43 (°C) | 45/38 (°C) | 40/33 (°C) |
| --- | --- | --- | --- | --- |
| Tile Finish (0.01m²K/W) | 62 W/m² | 52 W/m² | 42 W/m² | 32 W/m² |
| 15mm Wood Finish (0.1m²K/W) | 49 W/m² | 41 W/m² | 33 W/m² | 25 W/m² |
| 22mm Wood Finish (0.14m²K/W) | 67 W/m² | 56 W/m² | 45 W/m² | 35 W/m² |
| Carpet & Underlay (0.15 m²K/W) | 44 W/m² | 38 W/m² | 30 W/m² | 23W/m² |