TorFloor Suspended
DS UFH 04.2
---
Introduction
TorFloor is the only independently tested structural underfloor heating panel.
TorFloor is a chipboard or plywood low build up structural underfloor heating system designed to work well with heat pumps. The panels ensure the pipe is as close to the floor finish as possible. This maximises the heat output of the panels whilst minimising the temperature of the water being used. The system replaces the chipboard or plywood floor deck used in the construction.
The TorFloor panels have pre-routed channels to accept the continuous pipe, and factory fitted aluminium diffuser strips to further improve performance and provide a method for detecting the pipe. The panels are laid on the joists in industry standard brick pattern according to the OMNIE design with the pipe installed by piercing through the soft temper aluminium diffuser strips. The ends of each circuit drop into the joist space and are fed to and from the manifold as a continuous system (12mm compression fittings can be used if access is limited or as required). The panels then require a 6mm flooring grade Ply screwed and glued to complete the structural deck.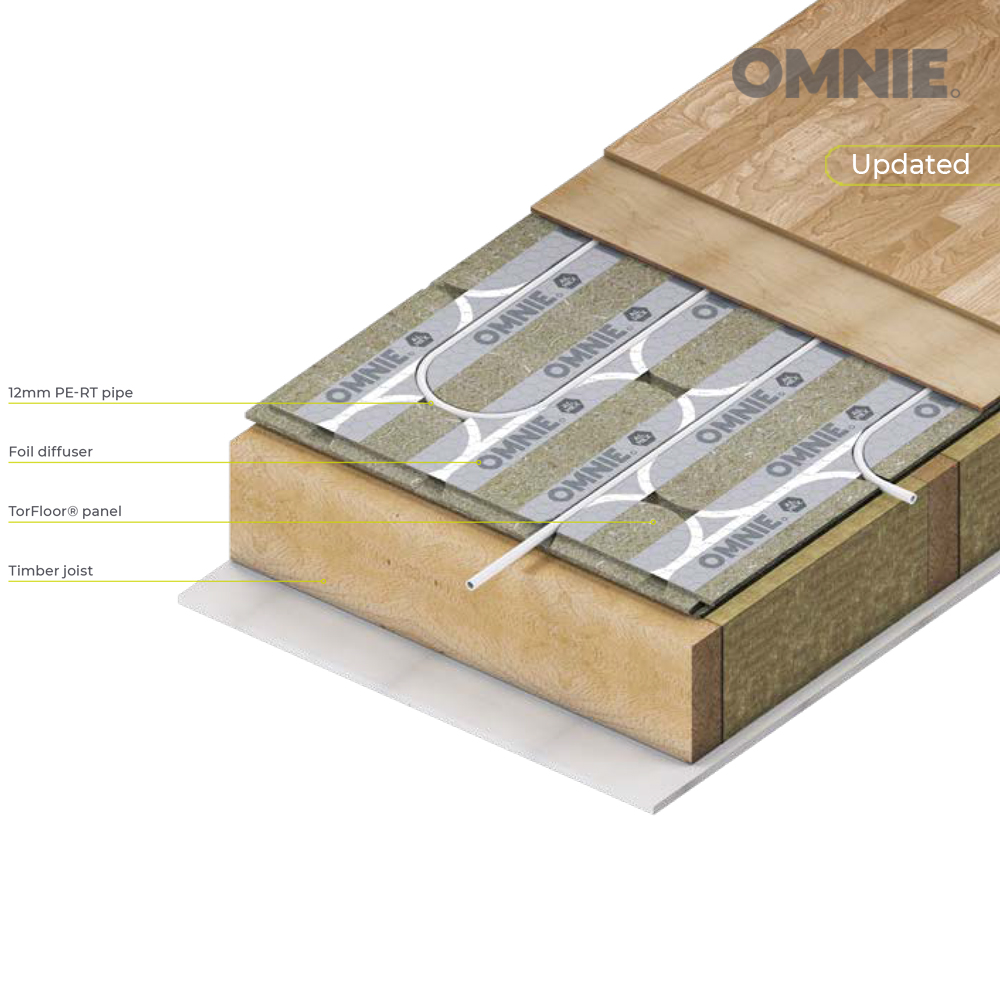 ---
Specification
OMNIE TorFloor with 22mm plywood or chipboard routed at 150mm centres to accept 12mm PE-RT pipe to DIN 4726 and factory fitted aluminium heat diffuser strips to be laid over a suspended/joisted floor up to 600mm centres. In order to form a structural deck a 6mm ply or floor deck is to be glued and screwed over. The system to be designed, installed and commissioned to BS1264.
For tile & decorative (vinyl) floor finishes the TorFloor panels will require the deck to be deflection free with a minimum 6mm flooring grade ply screwed and glued to complete the structural deck.
LAYFAST – Speed up installation time. This product uses our multi-directional pipe channel system.
For more information see DS UFH 22
DRYSYSTEM – No wet trades required, designed for dry constructions.
For more information see DS UFH 24

---
Technical Details
Panel Description
P5 grade chipboard or flooring grade ply
Thermal conductivity (22mm chipboard)
0.12 W/mK   (R value = 0.18 m²K/W)
Panel Thickness
22mm (+6mm ply)
Panel Dimensions
2400mm x 600mm
Weight with Water & 6mm Ply
13.92 kg/m²
Pipe
12mm PE-RT to DIN 4726
Pipe Centres
150mm
Heat Output
Heat outputs are dependent on the water temperature, floor construction, system dimensions, floor finish & design conditions. Please call 01392 36 36 05 to discuss your specific requirements.
As a guide the heat outputs below are based on 12mm PE-RT pipe at 150mm centres with 6mm ply installed over. Air Temperature = 20°C.
(0.15 m²K/W = 1.5 TOG).
| Floor Finish | 55/48 (°C) | 50/43 (°C) | 45/38 (°C) | 40/33 (°C) |
| --- | --- | --- | --- | --- |
| Tile Finish (0.01m²K/W) | 94 W/m² | 79 W/m² | 64 W/m² | 49 W/m² |
| 15mm Wood Finish (0.1m²K/W) | 74 W/m² | 62 W/m² | 50 W/m² | 38 W/m² |
| Carpet & Underlay (0.15 m²K/W) | 67 W/m² | 56 W/m² | 45 W/m² | 35 W/m² |