Alpha Innotec Luxtronik Heat Pump Controls
DS HP 22
---
Overview
One controller for all units
The Luxtronik 2.0 and 2.1 controls your heat pump, to ensure that you feel comfortable at all times. After you have saved your required temperatures and settings the heat pump will run automatically. A turn and push button makes operating the heat pump very simple and user friendly.
Through your Luxtronik controller you can link your Alpha Innotec heat pump easily to the web server in order that you can control all of the functions on your computer in house or for remote access whilst away. This also provides diagnostic information to your installer or us at OMNIE. Apart from a connection cable, no other hardware or software is required.
All Luxtronik 2.1 controllers made by Alpha Innotec are compatible with easy connection to the server with not extra costs.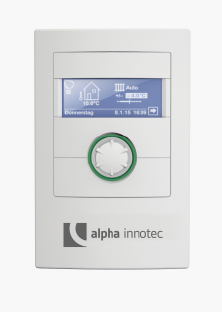 ---
Features
Easy to control using a single turn and push button
Connection to the internet/network without additional accessories
USB connection for data and software updates
Intuitive interface
Remote access