OMNIE Hot & Cold
DS DHC 01
---
Central Manifold Plumbing Systems
Hot & Cold manifold distribution is quickly becoming the normal method of installation in buildings and building renovations, by using centrally located manifolds with dedicated individual pipe runs to hot and cold taps, showers, washing machines and dish washers etc. This system removes the need for all concealed pipe connections and the subsequent risk of inaccessible leaks and can reduce install time by up to 40%.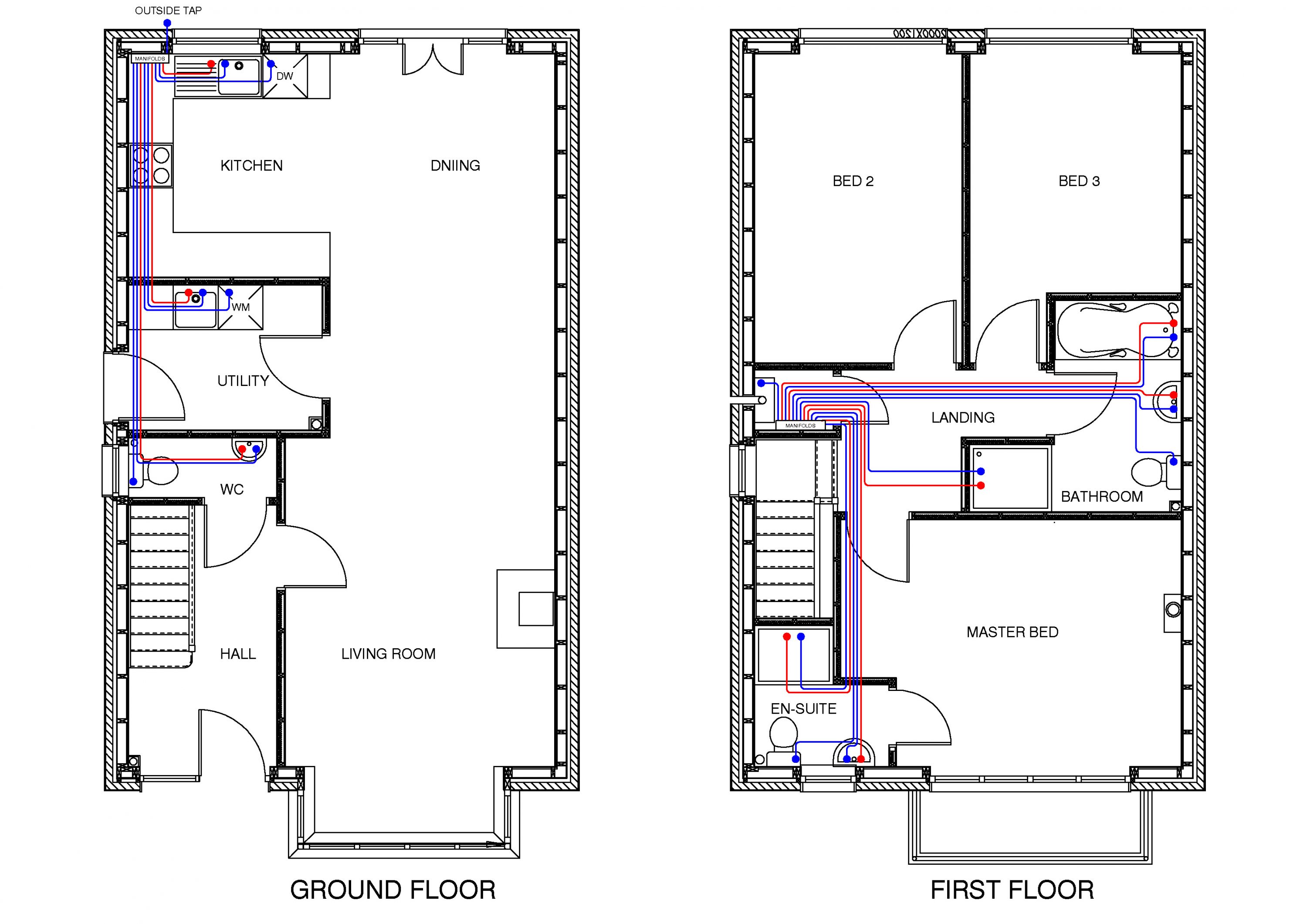 ---
Manifold distribution provides total or individual isolation to all hot water and cold water points in the building, with the ability to isolate parts of the system whilst the rest remains operational therefore reducing disruption for installation and maintenance.
Manifolds can be installed in a convenient accessible location(s).
The pipe also comes fully insulated and colour coded (red for hot, blue for cold), this padding will also reduce the risk of noise from the water supply network.
---
TopSan manifold with isolating taps
Brass
Warranty – 10 years
WRAS approved
Maximum operating temperature – 110 °C
Maximum operating pressure – 10 bar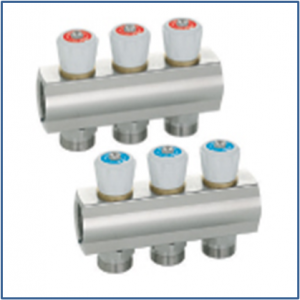 Red and blue outlet identification labels are supplied which can be marked to indicate which outlet they are serving for ease of maintenance.
The manifolds are supplied as single rails for flexibility in mounting and installation with a slider rail system, enabling the rails to be mounted either offset above one another or side by side.
Pipes are connected using monoblocco fittings.
| TYPE (3/4") | 2 POINT | 3 POINT | 4 POINT | 5 POINT | 6 POINT | 7 POINT | 8 POINT | 9 POINT | 10 POINT | 11 POINT | 12 POINT |
| --- | --- | --- | --- | --- | --- | --- | --- | --- | --- | --- | --- |
| LENGTH | 85mm | 121mm | 157mm | 193mm | 229mm | 265mm | 301mm | 337mm | 373mm | 409mm | 445mm |
---
Gerpex RA insulated pipe
Pipe routes can be planned in advance and once securely fastened in place they are basically maintenance free, no intermediate fittings to worry about, only fittings at either end which remain accessible with the pipe runs being fully insulated. The water is also protected against temperature loss for the hot and gain for the cold.
WRAS approved
Cross-linked polyethylene inner pipe (PE-Xb).
Bonding layer connecting the inner pipe to the aluminium pipe.
Butt-welded aluminium pipe, thickness min 0,2 mm.
Bonding layer connecting the outer pipe to the aluminium pipe.
Cross-linked polyethylene outer pipe (PE-Xb).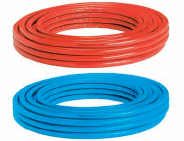 Technical data Gerpex RA pipe
Classes of application (UNI ISO 21003 – see table following pages): 2/10 bar, 5/10 bar
Operating temperature: 95 °C
Max. pressure: 10 bar
Coefficient of linear expansion: 0,026 mm/m °C
Thermal conductivity: 0,45 W/m °C
Minimum radius of bending: 5 x Ø pipe
Surface roughness of internal pipe: 7 μm
Fire reaction class: EL (EN 13501-1)
Technical data of insulating sheath
Material: Closed-cell expanded polyurethane, covered with a film in extruded LD-PE.
Thermal conductivity (at 40 °C): ≤ 0,040 W/mK (UNI EN ISO 8497).
Fire reaction class: 1 (UNI 9177); DL-s2-d2 (EN 13501-1).
Operating temperature: -20 °C ÷ 110 °C.
---
Features and benefits
Provides individual isolation of sanitary appliances if required. You are able to isolate parts of the system whilst the rest remains operational, reducing disruption when carrying out repairs or maintenance.
A reduction of up to 70% of joints, with virtual elimination of tees and elbows, therefore less chance of leaks and reduced installation time of up to 40%.
Ensures that you have good accessibility in the event of a problem – reducing the time for fault finding.
Allows you to improve planning, organisation and standardization on site, benefiting the build program for the project.
Benefits health and safety on your project by cutting down the amount of hot works on site.
Each circuit can be marked with an outlet icon also indicating whether it is hot or cold, allowing easy identification of which isolating tap to close. The manifolds are supplied with individual identification stickers to apply during installation.
Your manifolds can be installed in a convenient location such as a riser or service cupboard for easy access meaning less disruption to the building occupiers and ease of repair/ maintenance for engineers and contractors.