OMNIE Lite Thermostat
DS OLC 01
---
Programmable Thermostat
The OMNIE programmable thermostat provides full 7-day programmable room control. The discreet thermostat fits into a standard back box and is powered by a permanent 230V mains supply. Each thermostat comes with an optional floor sensor. The floor sensor can be activated to limit the floor temperature where this is required.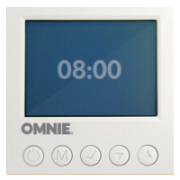 Specifications
Mounting Position: Flush mounted
Dimensions (W x H x D): 85mm x 85mm x 15mm
Power: 230V
---
Dial Thermostat
The non-programmable thermostat available from OMNIE is a simple versatile dial thermostat, which is able to switch a 230V signal.
Specifications
Mounting Position: Flush mounted
Dimensions (W x H x D): 85mm x 85mm x 15mm
Power: 230V