OgeeBoard
DS UFH 15
---
Introduction
OgeeBoard is manufactured from extruded polystyrene insulation (XPS) and potentially replaces the insulation needed to comply with Building Regulations. The OgeeBoards are routed with channels into which the pipe is installed before a screed is laid over. The OgeeBoard insulation panels are designed to hold the pipe within the thickness of the insulation reducing the possibility of damage from site traffic and reducing the amount of screed required. No other fixings, staples or plates are needed to hold the underfloor heating pipe in place.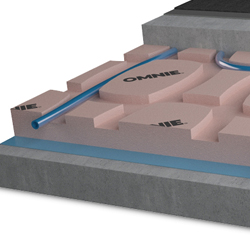 ---
Specification
OMNIE OgeeBoard XPS extruded insulation panels 35mm & 50mm thick using 16.5mm PE-RT pipe to DIN 4726. Expansion foam to be installed around the perimeter of the room. The system is to be designed, installed and commissioned to BS1264.
---
Technical Details
Panel thickness
35mm & 50mm
Panel Dimensions
2400mm x 600mm
Pipe
16.5mm PE-RT to DIN 4726
Pipe Centres
150mm and 200mm
Screed
Standard sand/cement screed of 65/75mm or a specialist thinner anhydrite or liquid screed (confirmation of thickness and prep to be sought by screed supplier).
Existing Slab
Existing slab to meet at least SR2 (5mm deviation in 2m) requirements for floor regularity (BS8204) and preferably SR1 (3mm deviation in 2m).
Heat Output
Heat outputs are dependent on the water temperature, floor construction, system dimensions, floor finish & design conditions. Please call 01392 36 36 05 to discuss your specific requirements.
As a guide the heat outputs below are based on 16.5mm PE-RT pipe at 150mm centres with 65mm sand/cement screed laid over. Air Temperature = 20°C.
(0.15 m²K/W = 1.5 TOG.)
| Floor Finish | 55/48 (°C) | 50/43 (°C) | 45/38 (°C) | 40/33 (°C) |
| --- | --- | --- | --- | --- |
| Tile Finish (0.01m²K/W) | 150 W/m² | 126 W/m² | 102 W/m² | 78 W/m² |
| 15mm Wood Finish (0.1m²K/W) | 105 W/m² | 88 W/m² | 71 W/m² | 54 W/m² |
| Carpet & Underlay (0.15 m²K/W) | 88 W/m² | 74 W/m² | 60 W/m² | 46 W/m² |