Alpha Innotec HMD1 Hydraulic Module Install Guide
IG-HP-02
---
---
Heat Pump Pack 10 and 11

Fitting the HMD1 to the Wall

First locate the Operating Manual for the HMD1 /E as this will be your guide. The following information should be read in conjunction with the manual; it is not instead of it,

Hydraulic Module HMD1

The Hydraulic Module contains most of the components necessary to make the heating system work;

Safety Set: – Pressure Relief Valve, Pressure Gauge, Auto Vent
12ltr Expansion Tank
Circulating Pump 25/80
Flow Sensor
Microprocessor Control System with temperature inputs and 230V outputs
Isolating Valves with fill/purge point and vent
Insulated Enclosure

The HMD1 includes the wall mounting fixings with nuts and washers and the outdoor temperature sensor.

Decide where the HMD1 unit will be located in the building; as close to the LWD outside as possible is best. Try to keep the HMD1, the Buffer Tank and the DHW cylinder close together as it helps with operation and maintenance. Leave enough space on the right of the unit for access to the electrical terminals and for the cable entry.

Install plan for the HMD1

Remove the unit from the box and place in a safe place. The drilling template is behind the HMD1 unit, take it and use it to mark the holes in the wall for the fixing studs. Use a Φ12mm drill to make the holes in the wall. Insert the plastic wall plugs supplied with the unit then screw in the three mounting studs.
Remove the cover from the HMD1 unit and place somewhere safe. Hang the HMD1 unit on the studs, fit the washers and the M10 nuts and tighten moderately being careful not to crush the casing.

Hydraulic Connections
Now fit the safety set on the top of the HMD1 unit. Use a thread sealant on the connection; a semi setting anaerobic type is best. Do not use PTFE or air setting sealants as these do not work with antifreeze in the water.

Fit the Isolating valves using the fibre washers supplied, note; the filling/purging valve is on the left. Now connect the flow from the LWD outside to the right hand valve and the flow to the heating/DHW circuit on the left.

The Return Temperature Sensor is tucked away inside the unit behind the electrical box. When the pipework has been installed remove the sensor and strap it to the common return pipe using the fitting kit included (stainless cover, cable ties and conducting paste). Make sure all the pipework is well lagged especially the sensor as this can be affected by ambient temperature.

Electrical Wiring

The cables all pass through the rubber cable glands provided on the right hands side of the unit. Pierce the rubber with a screwdriver and push the cables through. Note that the unit is not designed for SWA glands, if SWA cable is used it will be necessary to fit an adaptable box next to the unit to take the gland then run a length of flex into the HMD1. The largest cable entering the HMD1 should be no greater than 4mm² for the 6kW heater.

Connect the three power supplies to the HMD1 terminal blocks; Compressor and Heater at X7 and the Controls at X10. The details are shown on the Overview drawing below.

Wiring Overview for Packs 10 & 11

Interconnecting Cables

Connect the cables from the LWD unit to the terminal blocks in the HMD1; Compressor to X10, the Controls to X7 and the LIN cable to the centre connector on the Control Interface (the green plug). Clip the cable with the cable clamps provided, the LIN cable clips to the spring clip on the metal chassis. Check with the Terminal Diagram in the Operating Manual.

Pack 10 & 11 Wiring Diagram

Auxiliary Components

Wire the DHW Diverter Valve USV1″ into the HMD terminal X3. The Live (brown) and Neutral (blue) are wired into X10 and the switched live (black) is connected to BUP on X3

Luxtronic Terminal X3

If a secondary circulation pump is to be used for the DHW the live should be connected to ZIP and neutral to X7. In a standard installation the remaining terminals are not used.

The outdoor Temperature Sensor (TA) and DHW temperature sensor (TBW) must be connected to X4.

Luxtronic 2.0/2.1 Terminal X4

Outdoor Temperature – TA- GND
DHW Temperature – TBW – GND

The remaining inputs are not used on a standard system.

Internet Connection

To enable the remote maintenance feature the controller must be connected to the internet via a Broadband Router. Plug a Cat.6 Ethernet cable into the back of the router and the other end into the RJ45 socket on the Control Interface. Remote Maintenance function needs to be enabled by the commissioning technician or qualified installer in possession of the unlock code. Once enabled the User and installer are able to access the remote server via a portal website. A link is emailed to the individual when they are registered along with their User Name and password. This also allows them to use the Alpha App which is free from the App Store or Google Play depending which operating platform being used.

AlphaWeb Function Diagram

The controller should connect to the router automatically if the router supports DHCP functionality, most home routers do. If DHCP has been disabled on the router it can be taken out of the controller and an I.P. address entered manually.

Download the HMD1 Operating Manual here

Download the Wiring Overview here

Download the Terminal Diagram here
---
Auxiliary Components
DHW Diverter Valve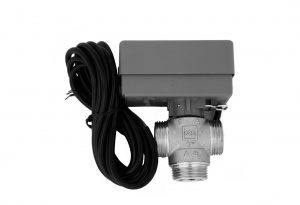 The diverter valve can be fitted in either the flow or return side. The schematic shows the return option with the Filterball close coupled. In this situation the common port AB is on the return to the heat pump outdoor unit. Port A is connected to the DHW cylinder coil return and Port B is connected to the buffer tank return. Beware; this is the reverse of the old convention of B for Bath.
Connect the wires to X3 as described above.
By-Pass Valve
Fit the by-pass valve between the flow and return before the buffer tank. This is so the water by-passing the heating circuit fills the buffer to provide the energy store needed for defrosting. The by-pass valve must be adjusted to allow the minimum flow through while maintaining the correct pressure across the heating circuit. This should be set up before commissioning. See the instruction below.
Filterball
Fit the filterball in the return line to the LWD, this is normally inside the building. Set it in a horizontal run with the cap on top so it can be removed without losing any fluid. Clean it regularly during the pre-commissioning stage, it will fill up with installation debris and slow the flow rate so the heat pump trips with a high pressure fault. Run the Ventilation Programme on the Luxtronic controller for several hours checking the filter every hour until it is clean every time. This will save a lot of returns to site later on.
Secondary Circulation Pump
Omnie does not supply secondary pumps, they should only be used when the hot water feed is long and it takes a long time for the hot water to emerge from a tap or shower. Always insulate the hot feed and the return lines.
The secondary return pump should be connected to the ZIP terminal of X3 and the neutral block X10. The controller includes a programme to control the pump to limit the run time and to turn it off when it performs a disinfection cycle. The programme can be altered remotely when connected to the Remote Server via the Internet.