FoilBatten
DS UFH 07.2
---
Introduction
The FoilBatten system can be laid between timber battens at 400 or 600mm centres. The universal FoilBatten panels are manufactured from extruded polystyrene insulation (XPS) with pre-bonded soft temper aluminium. As no thick rigid plates are used the panels can be easily trimmed on site. The panels are designed so that when a floor deck is laid over and fixed to the battens of the same depth they will be in direct contact with the heat diffuser, ensuring good thermal transfer. The nature of the FoilBatten panel to transfer heat efficiently increases performance by over 30% compared to systems that rely on air and do not use heat diffusers. Once the panels are in place the pipe is pressed into the channels piercing the foil diffuser and fitted into notches where the pipe passes between battens.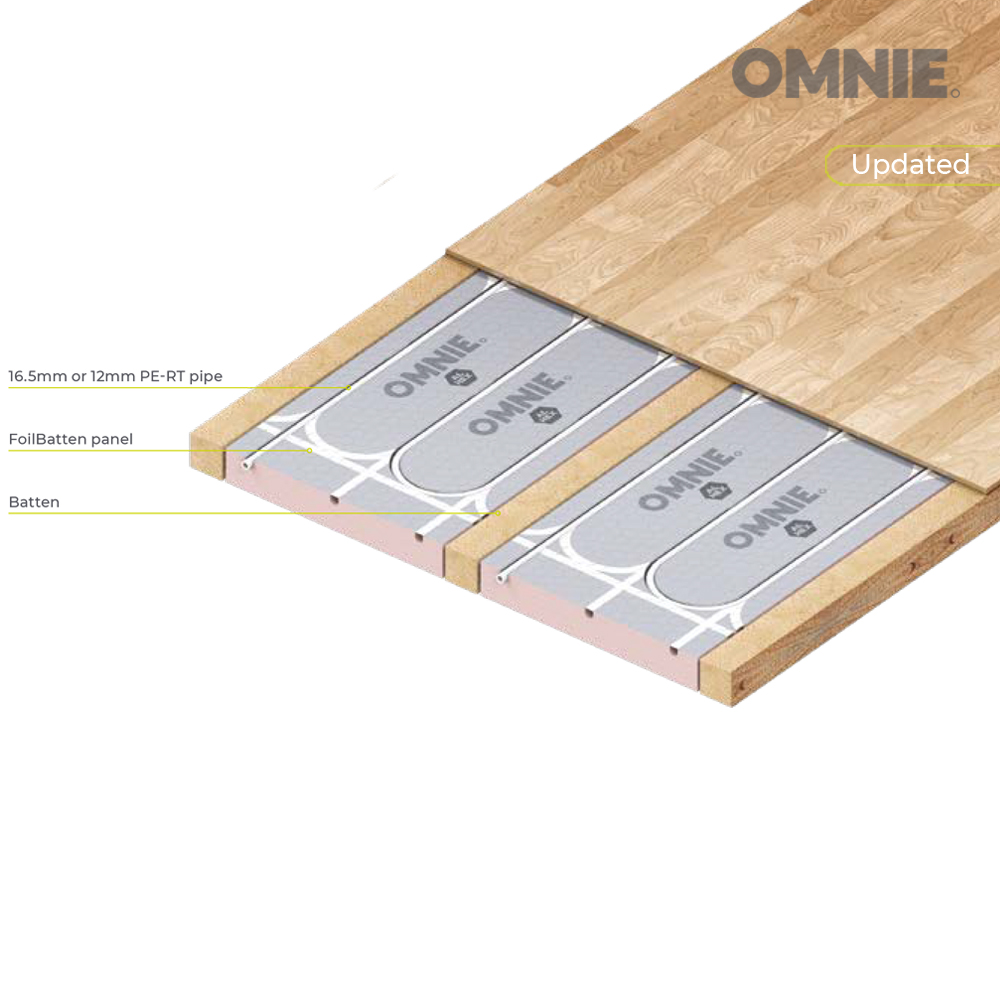 ---
Specification
OMNIE FoilBatten systems are universal panels comprising of 25 & 50mm extruded polystyrene insulation (XPS) with pre-bonded heat diffusers to be installed between battens at 400/600mm centres. PE-RT pipe to DIN 4726 of 12mm to be inserted into the pre-routed grooves. Floor deck to be laid and fixed over. The system to be designed, installed and commissioned to BS1264.
DRYSYSTEM – No wet trades required, designed for dry constructions.
For more information see DS UFH 24
---
Technical Details
FoilBatten Panel
XPS expanded polystyrene panel with pre-bonded soft temper aluminium (k=0.033W/mK)
Compressive Strength
200kPa
Panel thickness
25mm/50mm
Panel Dimensions
Battens at 400mm centres – 1200 x 345mm
Battens at 600mm centres – 1200 x 545mm
Weight
1.5 kg/m2   (50mm thick, 150mm centres, 12mm pipe)
Pipe Centres and Pipe
150mm (600 centre joist) 133mm (400mm centre joist) – 12mm PE-RT to DIN 4726
Existing Floor Requirements
Existing slab/floor deck to meet at least SR2 (5mm deviation in 2m) requirements for floor regularity (BS8204) and preferably SR1 (3mm deviation in 2m). The floor finish company may have their own requirements which take precedence.
Heat Output
Heat outputs are dependent on the water temperature, floor construction, system dimensions, floor finish & design conditions. Please call 01392 36 36 05 to discuss your specific requirements.
As a guide the heat outputs below are based on 12mm PE-RT pipe at 133mm centres with 18mm chipboard laid under 15mm wood, carpet and underlay, and tiles.  Air Temperature = 20°C.
(0.15 m²K/W = 1.5 TOG).
| Floor Finish | 55/48 (°C) | 50/43 (°C) | 45/38 (°C) | 40/33 (°C) |
| --- | --- | --- | --- | --- |
| 18mm chipboard deck with Tile Finish (0.01m²K/W) | 85 W/m² | 72 W/m² | 58 W/m² | 44 W/m² |
| 18mm chipboard deck with 15mm Wood Finish (0.1m²K/W) | 68 W/m² | 57 W/m² | 46 W/m² | 35 W/m² |
| 18mm Direct Structural Wood Finish (0.13m²K/W) | 92 W/m² | 77 W/m² | 63 W/m² | 48 W/m² |
| 18mm chipboard deck with Carpet & Underlay (0.15 m²K/W) | 62 W/m² | 52 W/m² | 42 W/m² | 32 W/m² |